Meet Siklu at MWC and join the Gigabit Wireless Access Revolution!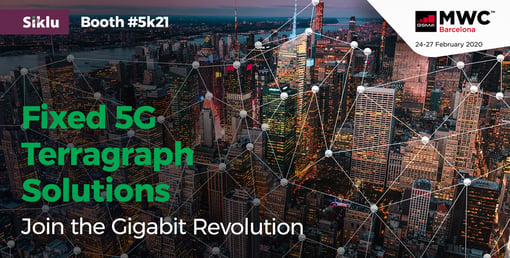 Visit Siklu at MWC20 Barcelona, booth #K21 in Hall 5, and learn all about our new line of 5G Gigabit Wireless Access (GWA) and Facebook – Terragraph compliant mesh networking products.
Siklu's MultiHaul™ mesh product line is lowering the cost of delivering fixed wireless Gigabit services to homes, businesses and Smart City Broadband IoT applications. And speaking of Smart Cities, Facebook's Telecom Infrastructure Project has selected the Siklu MultiHaul™ cTU and BU radio for their live, Smart Pole networking demo in Hall 5, booth A40.
Our line of mesh/Terragraph products offer benefits including radios providing 360-degree coverage, the ability to self-organize into a neighborhood mesh and almost 10Gbps of capacity. In addition to our mesh line of products, Siklu offers the broadest portfolio of award winning PTP, PtMP topology systems, and offers an unmatched suite of software tools to facilitate the networking planning and deployment process.
Schedule a meeting and learn why our customers have deployed 100,000 units in 225 Smart Cities worldwide.