Gigabit Wireless Smart City Connections Have Never Been So Minuscule!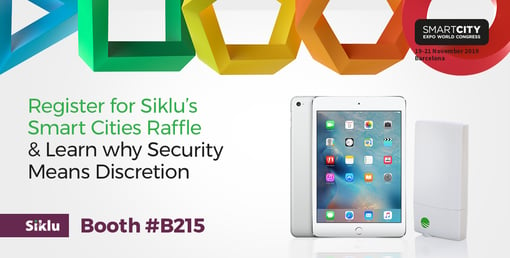 Security Means Discretion. And discretion in your gigabit wireless Smart City network means using the most unobtrusive and robust Gigabit mmWave wireless radio on the market. The MultiHaul™ compact Terminal Unit (cTU) is the smallest mmWave wireless radio in the Smart Cities market, roughly the size of a smartphone.
The cTU brings the advantages of reliable multi-gigabit capacity in the uncongested mmWave bands to a cost-effective pocket-size PtMP package. When combined with the rest of Siklu's industry leading mmWave portfolio, Smart Cities can plan and deploy complete gigabit wireless networks all from one vendor.
Combining this extensive hardware suite with groundbreaking software tools yields the complete solution for cities that need not just connections, but gigabit connections. Take that fiber and extend it to where service is needed – be it video camera or public Wi-Fi backhaul, Siklu has it covered.
Meet Siklu at Smart City Exo Barcelona, November 19, booth #B215 and register for our iPad mini raffle!