Meet the leaders in mmWave 60GHz Terragraph solutions!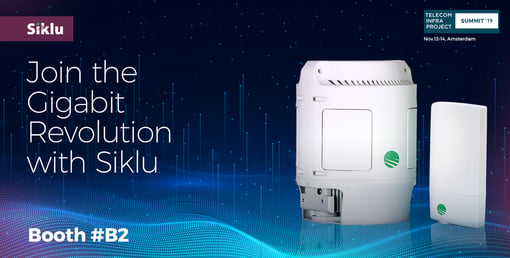 Visit Siklu at TIP Amsterdam, booth #B2, and learn all about our third generation line of 60GHz Gigabit Wireless Access (GWA) products.
With Siklu's Facebook - Terragraph compliant MultiHaul™ mesh product line, Siklu is lowering the cost of delivering Gigabit services to homes, businesses and Smart City Broadband IOT applications. and within Smart Cities Broadband IoT applications. With a single unit providing 360-degree coverage, the ability to self-organize into a neighborhood mesh and with just under 10Gbps of capacity, Siklu's Terragraph product portfolio delivers the complete solution for profitable GWA networks.
Siklu continues to be the leader in mmWave systems, offering the broadest portfolio of award winning PTP, PtMP and mesh topology systems combined with an un-matched suite of software tools available in the GWA market.
Schedule a meeting and learn why our customers have deployed 80,000 units in over 200 Smart Cities worldwide.