Wireless Fiber Video Surveillance Networks Connectivity
Don't get caught with your network down: Video Surveillance using mmWave for connectivity will extend your Surveillance network quickly and on budget!
Is your network crying out for bandwidth? Does your wireless video surveillance network suffer from outages due to interference? Does your Video Surveillance network choke when 4k technology is around? With worldwide adoption of IP cameras skyrocketing, Siklu radios make sure your video surveillance network keep up with the data rates needed, and reliably support the not only the latest in advanced HD technology today, but tomorrow as well- making snowy, jerky pictures a thing of the past.
Why Video Surveillance Requires Reliable Connectivity
Smart Cities are increasingly turning to video surveillance as a key method for enhancing safety and are deploying more cameras every year. These cameras are often HD 4K and PTZ requiring 10's of Mbps of capacity at a low jitter rate.
For many video surveillance deployments, wireless connectivity is a core component and unreliable wireless connectivity is not acceptable. High speed low jitter video surveillance connectivity is required to be always-on and stream the live picture anywhere, anytime, whether it is during a non-event or a security disaster and from any type of HD camera.
Unfortunately, Wi-Fi interference is growing fast and reality shows that when there is a crowded event where multiple technologies are all competing for the same wireless frequency, or a security disaster, sub-6 GHz wireless connectivity solutions can no longer be counted on to deliver reliable video surveillance connectivity.
Who Needs Video Surveillance Connectivity
System integrators, dealers and installers are all seeking to deliver reliable video surveillance connectivity. System integrators sell, install and maintain a security system. For the most part they are involved in all aspects of security – video surveillance, access control and intrusion prevention. System integrators come in all sizes, global, national, regional and local. A large chunk are owner-run. The larger ones are public companies. There are also many types of consultants that are security focused. They can be independent and focused solely on security. They can be regional, national and global. They may even be engineering companies focused on security and other verticals like Audio Video, fire and more.
The primary concern by many regarding the use of wireless for video surveillance connectivity is that it is not reliable as fiber. They want to recommend and deliver the best video surveillance connectivity solution to their customers, fast and on budget.
It wasn't too long ago that security professionals and end users were skeptical about installing a wireless video surveillance network when a traditional fiber network was not an option. For years, they have had only two options to transmit video: either fiber or traditional 5GHz wireless. Fiber's speed and reliability are great, but the price tag, time and disruption of its installation aren't. At the same time, using traditional sub-6 GHz wireless technology for video surveillance connectivity can provide an affordable and flexible solution, but with a host of problems, like unreliable connectivity, limited bandwidth, poor latency, and interference from other wireless networks.
However, like many solutions in the security market, technological advancements in wireless systems has put to rest these concerns, thanks to the introduction of a reliable, easy to install and cost conscious solution that is also highly secure – mmWave Wireless.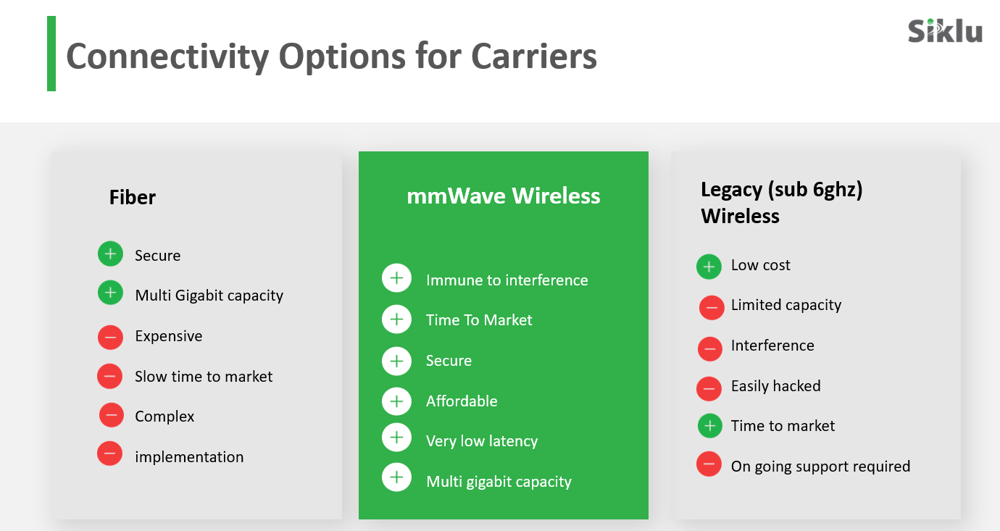 How 5G and Video Surveillance Connectivity are Perfect for Each Other
5G represents high speed, low latency and enough available spectrum to support gigabit capacities required not only for video surveillance connectivity, but also allowing one network to serve a diverse set of additional applications as Public Wifi, Health Care facilities, Airports, Ports, Parking Lots, Libraries, Fire Stations, Intelligent Traffic Systems and other city services requiring reliable high throughput.
Operating in the 60, 70/80 GHz uncongested bands Siklu's mmWave solutions extend your video surveillance network where fiber is not available- on time and on budget, leveraging narrow beams which are virtually immune to heavy Wi-Fi signals and interference and delivering high capacity wireless transmission.
Siklu radios can provide all the key elements you need for reliable video surveillance connectivity:
Fast and flexible rollouts
Wireless Fiber - Gigabit capacities & reliability
Highly secure, delivering 99.999% availability
Plug & play deployments with automatic alignment using advanced beam forming techniques
A single, multi-application network for all your video surveillance connectivity needs
What is the Future of Video Surveillance Connectivity?
While there is a huge amount of hype around the future of 5G and video surveillance connectivity, in reality this is happening today. Network congestion is one the toughest IT security challenges this decade, but it does not have to be the 'new normal'. Siklu's palm-sized radios provide your video surveillance network uncongested, interference-free, wireless connectivity wherever a camera is needed. The multigigabit solutions slash delays to boost performance of myriad camera systems. Over 200 smart cities are already benefiting from advanced 5G mmWave video surveillance connectivity by Siklu today and adoption is accelerating. With mmWave networks, you can forget about losing critical pieces of video that don't get recorded, because of a jammed network or malicious intent. Thanks to its fiber quality and wireless flexibility, mmWave security networks are an ideal solution for delivering live streams for your video surveillance network, both easily and affordably.